I'm Rob Allison, welcome to my Nuggethunting.com Website. This site will continue to grow in the future. My nugget, meteorite and gold prospecting experiences extend from Northern Alaska, down to the lower Southwestern deserts of Nevada, California, New Mexico, Arizona and ito Mexico. Widespread amounts of placer, along with lode gold have been found in these regions, which is part of the western cordilleran. I'm amazed at the amount of placer gold that is still lying around in various states. Economic Geologist estimates that there are still thousands of ounces of placer gold nuggets lying within metal detector range. This range can vary from a few inches, to several feet in depth. Many of the newer technologies, such as Pulse Induction (MPS, DVT & SETA), can detect larger metallic objects at depths of 3-4 feet realistically. History states, large gold nuggets, over several hundred ounces, were once recovered in the early American gold rush days. Without a doubt, all of these large gold nuggets have not been uncovered. With the use of a good metal detector, electronic prospectors not only add another tool to their arsenal, but also can cover much more ground, in return only adding to your chances of a good find! Metal detectorist often find small alluvial and eluvial gold nuggets today. Metal detecting has become quite the popular hobby within the last several years.
"Rob Allison & Customers during a Training Session in Arizona 2013"
..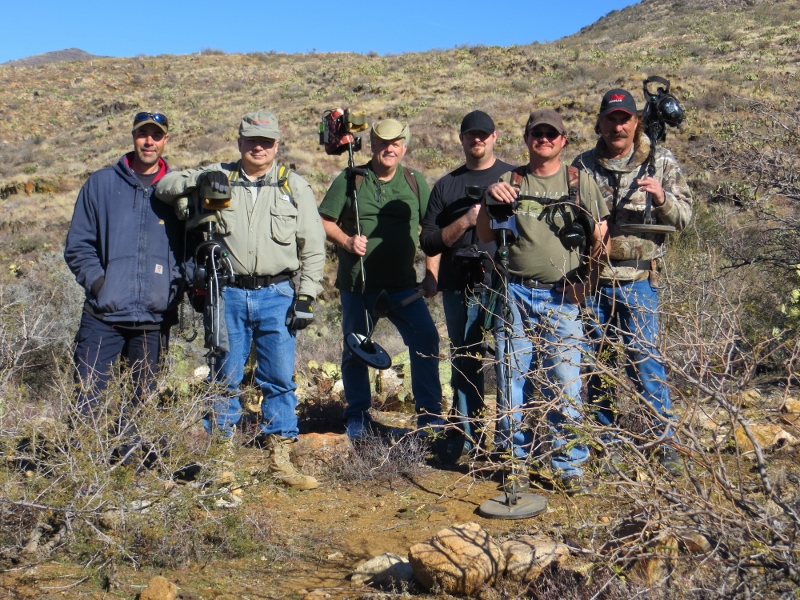 "What is Nuggethunting?"
Metal detecting for gold nuggets is also referred to as "Nuggethunting" or "Nuggetshooting." Nuggethunting is a field of gold prospecting and mining, in which the hobbyist uses a metal detector to search for gold nuggets & deposits near the surface. Since the recent technology advances in metal detectors and skyrocketing prices gold gold, electronic gold prospecting has become very popular within the last several years. The metal detector is a tool that can now be used effectively to find shallow free-milling gold pockets and pay streaks within both dry placer and hardrock gold districts. Remember, the old-timers couldn't see the gold, so they used methods such as dry washing and screening to speed up their recovery process in the arid desert regions of the Southwest. Unfortunately their recovery was low due to faulty equipment design and operational errors. Therefore, today many of these areas have been left high and dry and are prime targets for today's electronic gold prospectors.
Want to learn more about Electronic Gold Prospecting? Visit Rob's Nuggethunting.com Gold Prospecting & Metal Detecting Forums at - Prospecting Forums (Click Here) We currently have over 5,000 registered coin, relic, gold nugget & meteorite hunters.
New talk about the Minelab GPX 4800 & GPX 5000 on the "Gold Prospecting" and "All About Minelab" forums. Come join up today and be part of one of the largest gold prospecting forums on the Internet. Find out what people are finding with these new Minelab metal detectors.
Find us on Facebook by searching for "Rob's Detector Sales."
We also just added a new Youtube Cannel with all our Youtube metal detecting videos. We now have more than 1.5 Milion hits on Youtube and over 1,000 subscribers to our channel.
"Visit our Youtube Channel by Clicking Here"
"Why a Metal Detector for gold?"

For thousands of years mineralized quartz veins and exposed ore bodies have been shedding rich float before the old-timers ever discovered them. Due to vast amounts of weathering, many of these veins have now weathered out and formed hillside (eluvial) and stream (alluvial) deposits. Many of the hillsides around idle rich gold mines may be dotted with gold ore and nuggets. Today's detector technology, including the new Pulse Induction (PI) units can find pieces of gold down to the size of a match head. With the use of a quality metal detector, prospectors can now increase gold finds by covering more area in a shorter amount of time.

Due to a high specific gravity of gold and millions of years of erosion and concentration, gold nuggets found the lowest possible place to rest. Most of the time, these areas were drainages, and the old-timers conducted most of their working within them. They dug down and exposed the rich pay layers of gravel at or near bedrock. In arid desert regions such as the Southwest, drywashers were used the most. The old-timers processed these rich pay streaks of gravel through crude drywashers. Due to inconsistent air flow, poor design and overloading resulted in poor recovery. Some reports say the old-timers lost more than 50% of the values they processed.

Many of these drywasher tailing piles still contain sizable gold nuggets that can be recovered with modern day metal detectors. Many of the drywashers used half-inch minus hopper screens, so anything larger was discarded and formed coarse tailing piles. Many of these drywasher spoil (tailing) piles are still waiting for a detectorist to find them!!

As metal detector technology continues to strive, more and more gold will continue to be found. Many of the newer Pulse Induction (DVT) Metal Detectors, such as the latest Minelab GPX 4800 & GPX 5000 open up old goldfields for new discoveries.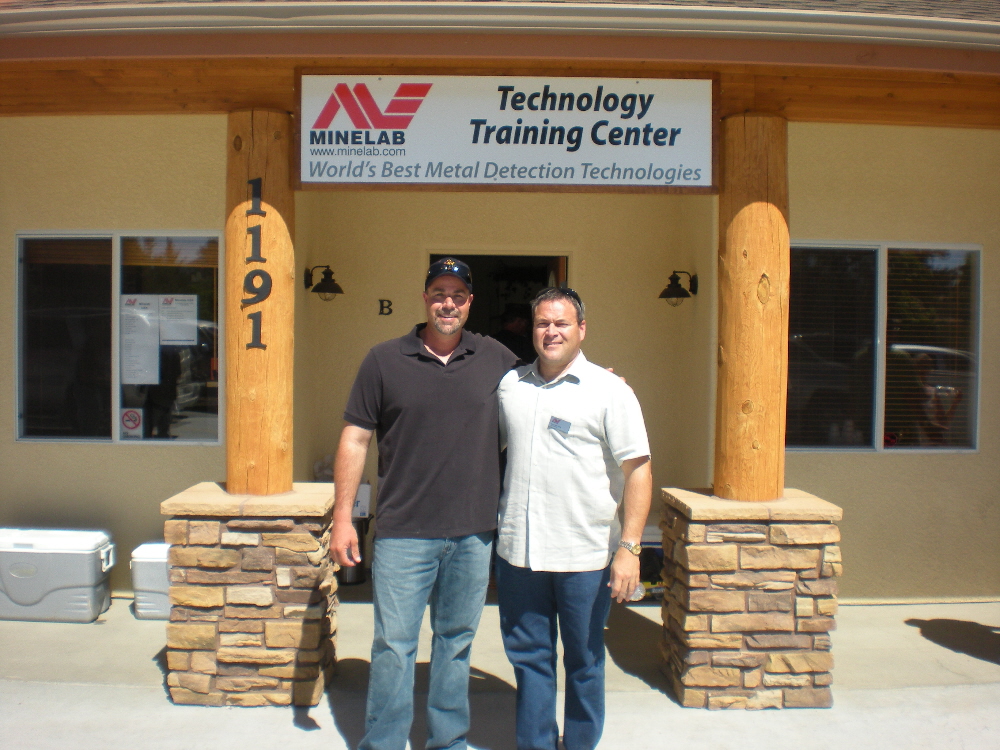 Rob Allison & Minelab's Vice President, Gary Schafer at Minelab's Technology Training Center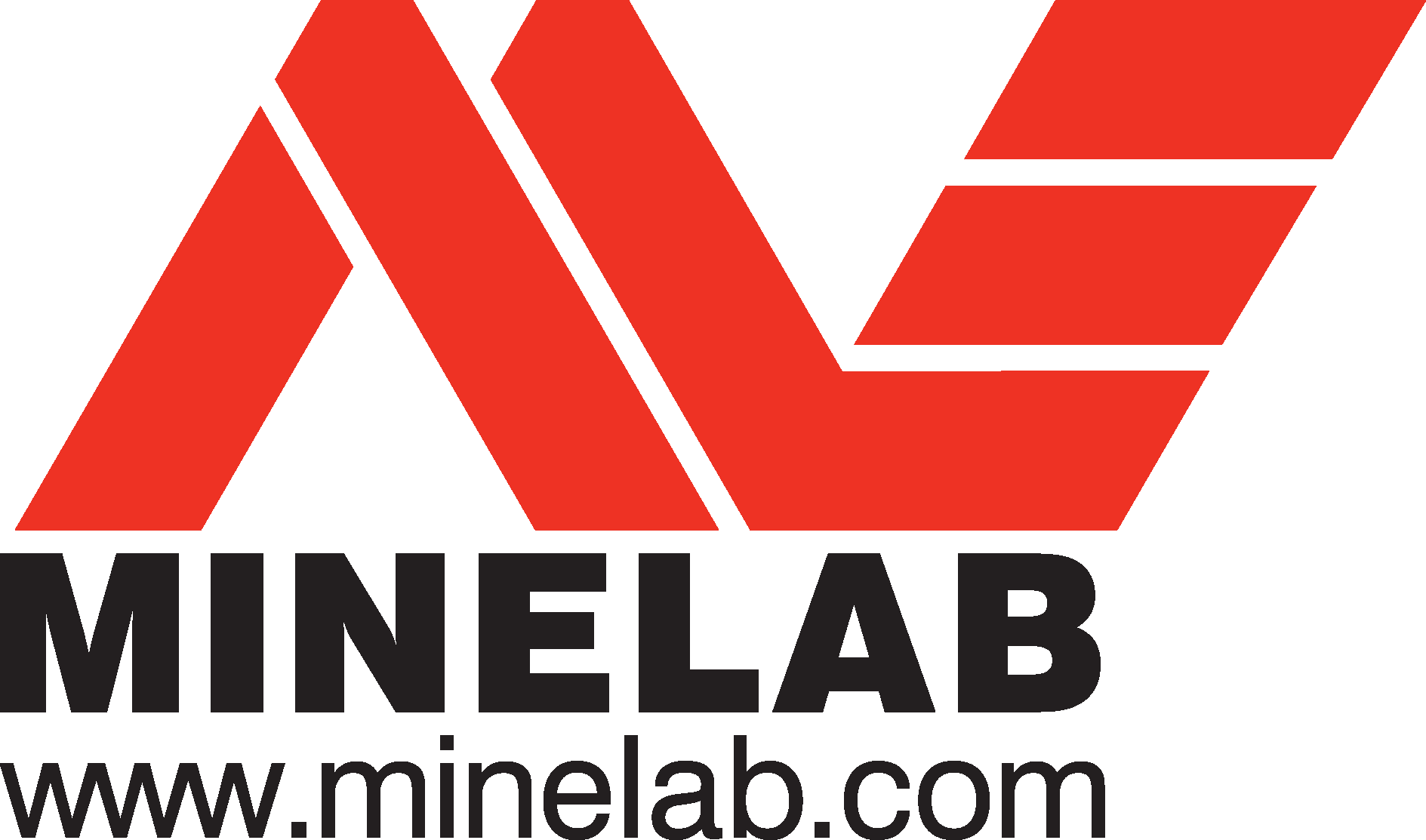 Visit Minelab's Main Website by clicking here - www.minelab.com
Contact Rob @ Rob's Detector Sales to learn more about what metal detector will suite your needs. Rob has been prospecting/metal detecting for over 20 years. Rob's Detector Sales conducts field instructions, seminars and outings throughout the year, contact us to learn more about these events.



Why Purchase from Rob's Detector Sales?
New Online Store at - www.robsdetectors.com
Well we not only give you the best prices, but we have the best metal detector bundle packages available out there. Rob's Detector Sales has been in business for over 10 years selling electronic prospecting supplies. Purchase today from Rob's Detector Sales and get the following for FREE -
(1) Bundle Packages that include searchcoils & accessories
(2) Fed-Ex Home Delivery or Ground Shipping
(3) Full insurance value on shipping
(4) one-on-one private AZ field instructions with Rob Allison
(5) access to private gold nugget claims
(6) best support beyond the sale you can imagine (email, phone and forum)
I highly encourage all new Minelab owners to take me up on the Arizona field instructions. During this full day of field instructions we will cover basic geology, ore deposits, what to look for, how to set up the detector, tips & tricks and whatever else is needed to get you off to becoming a successful nuggethunter.
Although there are no guarantees, most customers find their first gold nugget, if not nuggets during our Arizona field instructions. We conduct most of all the field instructions at the famous Rich Hill, Arizona. This placer goldfield is one of the richest in the US.

Rob's Detector Sales is rated one of the "Top 5 US Minelab Dealers" in the United States. Purchase from someone that knows and uses the metal detectors and accessories they sell.
Mail order companies can't provide the technical support or training you will receive from Rob's Detector Sales before or after the sell. We provide the same level of service and support as we would expect if we were the buyers.
Give us a call anytime!
# (623) 362-1459 business line
# (602) 909-9008 business cell
auplacers@yahoo.com or rob@robsdetectors.com website email
Please leave us a detailed message if you don't catch us in person. During the winter months we are spending a lot of time in the field conducting field instructions with customers. We promise to get back with you ASAP.
---
Minelab GPX 5000 Metal Detector, Learn more about it here ...
The GPX 5000 sets the new benchmark in gold detecting technology. With an amazing range of features and functions the GPX 5000 is not only superior to its predecessor, the GPX-4500, and is in a class of its own. Featuring Minelab's exclusive technologies, Multi Period Sensing (MPS), Dual Voltage Technology (DVT) and Smart Electronic Timing Alignment (SETA), the high performance GPX 5000 is capable of finding more gold than ever before. From sub-gram nuggets to the elusive 'retirement nugget' and everything in between, with the GPX 5000, you can find it.

New improved electronics, new Soil/Timings and an amazing range of features combined with the legendary GPX ability to 'see through ground' mineralization, gives you a significant Depth Advantage over other detectors.
Using unique features, functions and industry leading patented technology ensure the GPX detectors run smooth and quiet in even the most severe ground conditions, whilst still maintaining excellent depth and sensitivity to gold nuggets. Serious detectorists know that GPX detectors find gold much deeper than ANY other detector, in ALL ground conditions. That's why we are confident to say we have the GPX Depth Advantage.

With more Timings than ever before, the 8 Timings available on the GPX 5000 change the digital switching and processing of the electronics in the detector. Each Timing has been designed for optimum performance under certain conditions, so it is like having a different detector each time you select a new Timing.
Learn more about the Minelab GPX 5000 by "Clicking Here"
Four Happy Minelab GPX 5000 Customers during their field instruction day with Rob's Detector Sales in Arizona desert.
.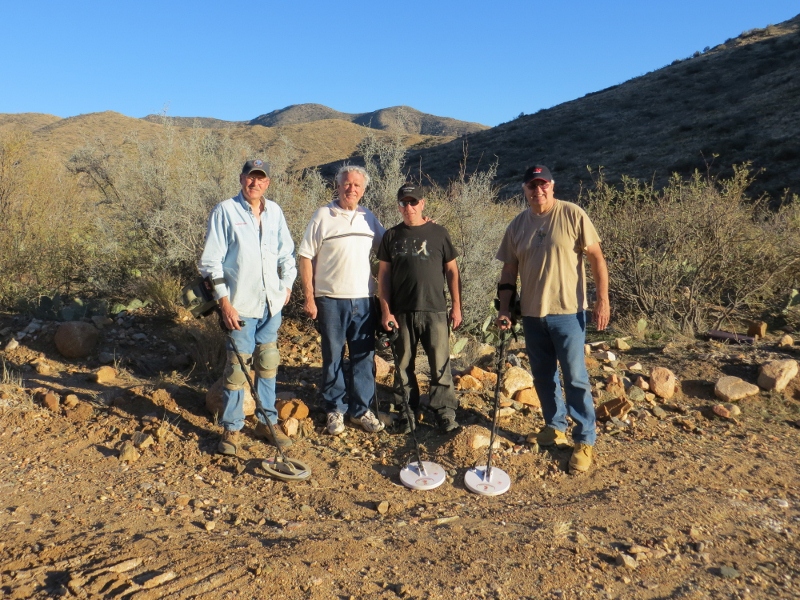 ---
"Nuggethunting.com Online Gold Prospecting Forums"

Most Informative Gold Prospecting, Coin & Relic Forums on the Net
Want to learn more about searching for gold nuggets? Not certain what Metal Detector might be right for you? Need help troubleshooting something you already own? See what electronic prospectors are really finding? Well you come to the right place! Join my gold forums to get in on the some of the top discussions about searching for gold nuggets throughout the US. Over 6,000 registered gold nugget, relic and treasure hunters are actively contribution to my Nuggethunting.com gold forums! Get all your answers here!
New talk about the Minelab GPX 4800 and GPX 5000 Metal Detectors.

Join Rob Allison's Nuggethunting Forums today by - "Clicking Here !"
Keep the Searchcoil swinging Low and Slow!